"You never get a second chance to make a first impression" is a saying you have probably heard. Though it may sound a bit harsh, it is a good source of inspiration when developing your organisation. When it comes to onboarding - introducing new employees - a new employee's first feeling for the workplace is vital for both the employee and the employer.
The step before onboarding
A well-planned introduction for new employees creates better conditions for them to faster enroll their new work roles and provides them with a safer start. During the onboarding process it is important that employees have quick and easy access to help during the work day. And by using digital courses you can create a more effecient onboarding, which can save both time and money for the organisation.
To give new employees an even better start, and reduce the time even more until they are fully introduced, you can add preboarding to your onboarding process. Preboarding is the time that runs from signed employment contract until the first working day.
Ask yourself: "Can we train a prospective employee who is between jobs or who has a notice period in front of them, even before the person enters through the entrance to their new workplace?".
Yes, absolutely! That time is highly valuable for you as an employer and for the prospective employees. It is a period when many feel very motivated and positive about their new role and workplace. By using that period effectively, with introductory material and personalized welcome, you create a professional impression and make it easier for prospective employees to faster move on in their onboarding. It also helps employees to get to know their employer and workplace early, creating a personal relationship directly.
Your digital welcome guide
By using InfoCaption, our customer Coor has developed their onboarding process and worked a lot with preboarding. They have created the guide "Welcome to Coor" for their new employees, which they get access to before they start their employment.The guide is being sent out to the private email addresses of the soon-to-be coworkers, about 14 days before their first work day. The same day as they start their employment a sms is sent out, directing them to Coor's "Workplace app" where they can find more information.
Ann-Cathrin Östman (IT Education Service) at Coor describes the project:
"'Welcome to Coor" was created because we wanted to send a nice welcome to new employees before they start at Coor to their private e-mail. It is automatically sent out about 14 days before they begin their employment with us. The next step is a text message coming to them on Day 1 at Coor, where they will be invited to log into our Workplace app where they can get more information through the 'New at Coor' guide portal."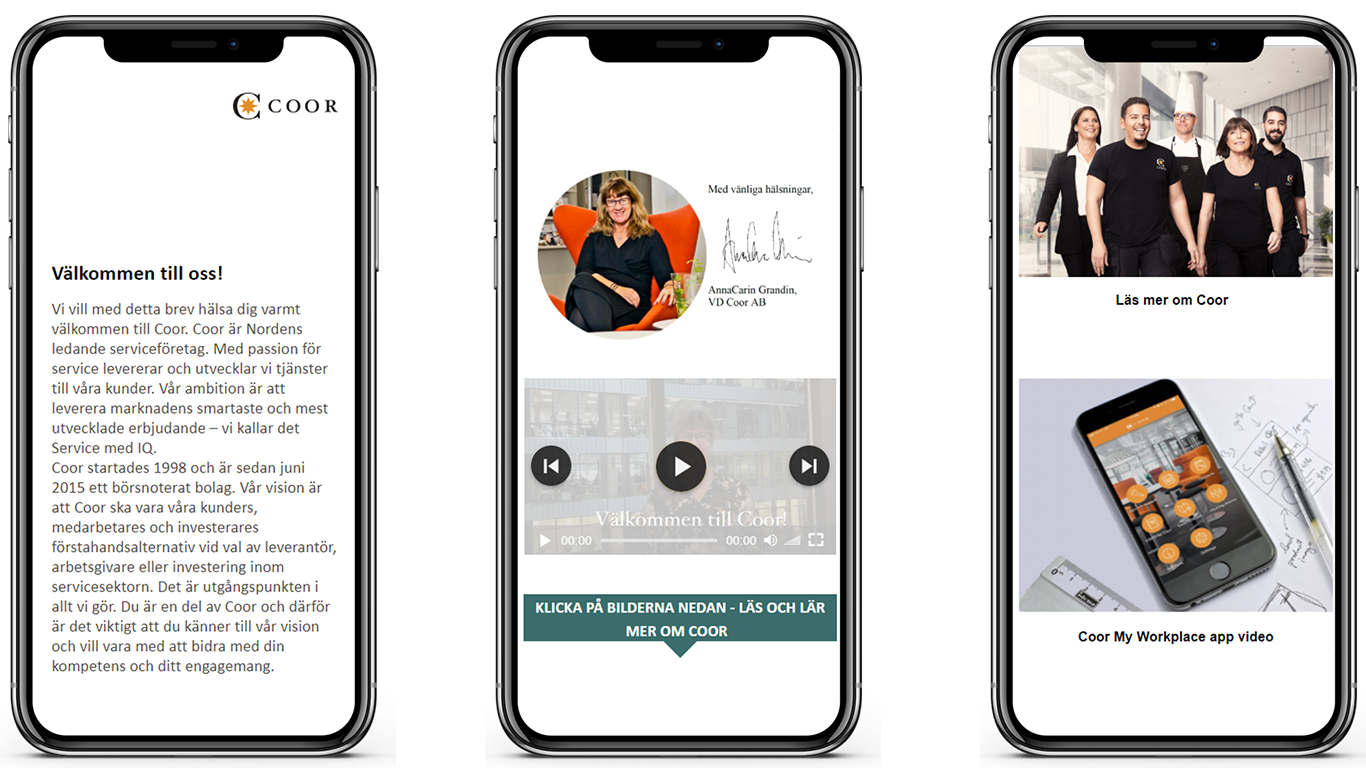 The introduction guide "Welcome to Coor", created with InfoCaption.
To use the time for preboarding, just like Coor, to inform and welcome new employees to their new workplace contributes that the new employees will be prepared on their first work day, and therefore makes it easier for them to absorb the information during their introduction. It also gives you as an employer the opportunity to create a personalized welcome and make a positive impression of the workplace even before the employee starts. You guide your new colleague directly into the work culture and help the employee get a personal connection to their new workplace and work culture.
3 tips for good preboarding:
Information in advance provides a safe start for new employees, as well as more efficient onboarding. Ask yourselves the question "what can the person learn before the first day of work?".

Make the introductory material digitally available. Gather information of text, image and video in a guide / shorter training that the new employee receives via email.

Dare to be personal, keep a positive and engaging tone in the material. Here you have the chance to create a culture carrier directly, when the person is curious and enthusiastic about their new job.
Want to read about how Coor streamlined their training for new employees and reduced the cost by 87% for training?