InfoCaption was launched in 2002 to enable those who know how to share their knowledge with those who need to know. Our first innovation guide is still the essence of what we are doing and creating a better living life for thousands of people each day.
Our mission
Behind everything that happens, there are people. We at InfoCaption are a bunch of heartfelt problem solvers who decided to change businesses for the better by making it easier for employees to help each other. We want those with the knowlegde to be able to facilitate the work of others by sharing, and to prevent those who need to know from feeling insufficient or hindered because of lack of knowledge.
InfoCaption has both a commitment and customer service far beyond the usual. And the platform is a great support in an organization, especially in times like this when digitalization has gotten a push forward and there's a big need for support.
Thomas Johansson, System Administrator – Trollhättan Municipality
InfoCaption was started by some developers who wanted to realize their dreams in multimedia, while allowing completely new types of people to spread their message in business. We had all worked in the e-learning world for a number of years and thought the focus was too much on making nice, costly and comprehensive things when users most wanted a quick help to let them move on to their job. Quite soon, we got a seller and became four; an analyst, a researcher, a visionary and a sales person. Together we coded for the nights and talked to customers about the days without peace until we got our first three customers - Skanska, MSB (then the Rescue Services) and the City of Gothenburg.
We learned in each project and everyone was most often on educational courses so we could bring as much input as possible. We developed continuously as we saw how the emerging system was used and more customers became interested. In 2004, we began to work seriously towards the public sector through a partner to us and in 2006 we started in Norway via partner (today's subsidiary). The municipal sector grew fast for us and the product effectively replaced expensive, teacher-led education in eg. electronic invoice management that seriously affected at that time.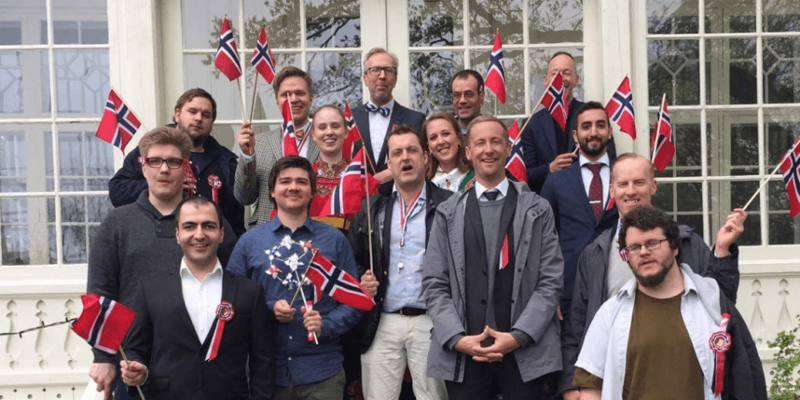 We occasionally bring the company together, which is usually very spread out. In 2017, we gathered in Oslo to celebrate Norway's national day, the 17th of May.
InfoCaption AB
The road to growth
The company grew slowly but surely at a modest pace. We employed another developer as well as Chalmers students who worked with sales, marketing, production and support in parallel with the studies. The customer base grew and the product also with new features and smart solutions in the original spirit's philosophy. But it was difficult to continue growing without changing working methods and getting a little bigger decision of product character. We had trouble finding good developers who were at the forefront of continuing our development.
In 2013, we found our qualifications in the form of retirement students from Gävle University, as well as unemployed, technically skilled people within the framework of the The Scape Bay project in Sandviken. An office was established in Sandviken, and the company consolidated a slightly tight corporate and ownership structure, took out external investors, bought a reseller and made an offensive venture on a new product area - processes. In a few years we went from just under ten to 20 million in sales and from five to almost 20 employees.
InfoCaption of today is a composite array of people with very different backgrounds. Both self-taught and highly educated with backgrounds ranging from sawmills to banks, from hockey to music, from lindey-hop to martial arts. In common, we have an interest in new ideas, that kind of thing in solving clever problems, a rather sick humor and the penchant for the warm and uncomplicated.