A digital colleague who guides during the working day
Today's learning is more about finding the right knowledge at the right time than learning during longer training sessions. Offer your employees or users Performance Support through context-sensitive help.
The fact that the user experiences effective help in their daily work situation is without a doubt the most significant success factor in the project.
Merete Johansen – Project manager for the transition to DIPS Arena, Nordlandssykehuset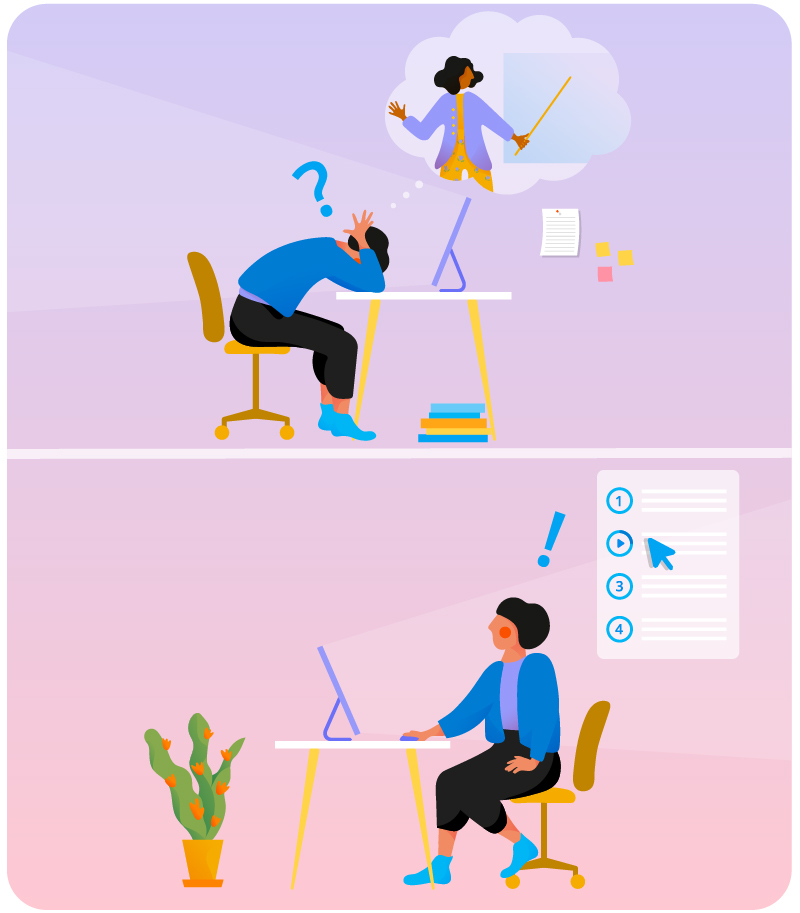 Streamline work tasks and support learning
Assist opens up the possibility of receiving support during the working day to a new level. Learning directly in the workflow while performing a task is called Performance support and is a very effective teaching method where the motivation to learn is very high.

With Assist, Performance support becomes a way to support the user by offering context-sensitive learning as close to hand as possible.

In practice, this means that relevant instructions and guides for the task to be performed are available at the right time and in the right place. Proximity to the knowledge that is needed increases the efficiency of the work at the same time that learning in the workflow is supported and knowledge-related stress is reduced.
A complete tool for Performance support
Offer effective support in work tasks with a complete tool for Performance Support. In InfoCaption's platform, you can always create several types of guides and make these available in an internal knowledge portal where the user can search for the knowledge they are looking for. But with Assist, you can move the knowledge even closer!

This application is developed by InfoCaption, is easy to install and can be connected to all existing guides regardless of guide type. Relevant guides are linked to different contexts and provide support adapted to the situation. If knowledge is missing, a search function gives access to the entire knowledge portal directly from the application.

The application can be adapted to your graphic profile for a seamless employee or user experience.
on websites
With a browser extension, guides are adapted based on which website the employee is on. For example, the user can easily access routines for how to book a business trip directly from the travel company's website.
on the computer
As a Windows app makes the help available directly on the user's computer. Then there are guides close at hand for local programs to support employees in computer settings and Windows programs such as Powerpoint and Excel or industry-specific systems. The search function and help are directly available on the taskbar.
in your system
If you want to offer first-class customer service and fast start-up for new users in your application or software, you can implement Assist with our API. Then end users can reach relevant support directly within the product and have customer service available around the clock, every day of the week.

Want to see how Assist works?
Order a recorded demo of the product. Fill in the form and we will send:
A video showing what the product looks like
Overview of functions
A basic tour of the platform
When you buy InfoCaption, you get a complete platform
for digital learning