A lot of systems and applications get a bad reputation when users have a hard time to understand how to use them. You have probably said or heard colleagues say "this piece of crap program..." many times, and it can of course be that the application is indeed bad. But most often it is just hard to find the help you need to understand what to do to complete your task.
Easily accessible or the opposite
It is during the daily work when we have the biggest need to learn things, but it is also at this specific point of time that we often have the worst prerequisites to find the knowledge or information we need to proceed on our own. The consequenses can be that we try to reach the person that can answer our questions - someone who might not always be available. This results in even more frustration and that we have to put some tasks in a "waiting" pile. It could also be that instead of waiting we guess the answer and hope that we do things correctly in the system just to proceed, and later on it shows that we did it wrong and have to redo it.
Something that we at InfoCaption often talk about is how odd it is that we work differently with knowledge at work than we do at home. There are a sea of great knowledge articles in different forms on the Internet, and with smart search engines that tailor the experience for us so that we find what we need in the first or second search result. Unfortunately, it's not as easy to find organisation-specific material, i.e. content that is relevant for your ways of working, created by someone in-house. This kind of material is usually spread out in several places, and may not always be available digitally. Way to much time is spent on trying to find the knowledge or information we need, and too few times we are able to find it on our own.
Something that is becoming more and more common is Performance Support Tools, which can deliver knowledge support in the same way as our everyday heroes Bing, Google, Youtube etc. Everything can be found in one place, wether it is about routines for sending invoices or a short video showing how the coffee machine works. The users know where they can find help to proceed by themselves, and instead of creating a support ticket and wait for an answer they can move on in just a few minutes.
Integrated help for efficiancy
There are many ways to highlight the knowledge articles and make them more avalable for the users. Some of our customers build "Guide portals", a kind of search page in InfoCaption, that they refer to when they get questions and their users can then find self-service articles that helps them right in the moment of need. Others link to the articles on their intranets or directly in the systems that they work in, which makes the help reachable within just a few clicks.
With a heavy focus on user experience, one of our customers have made guides and support easily accessible, based on the unique user's behavior. Thanks to one of our APIs they have built an integration between InfoCaption and their own application that displays a dynamic list in the application. The list contains guides from their InfoCaption server based on what page the user is visiting, or what feature they are using.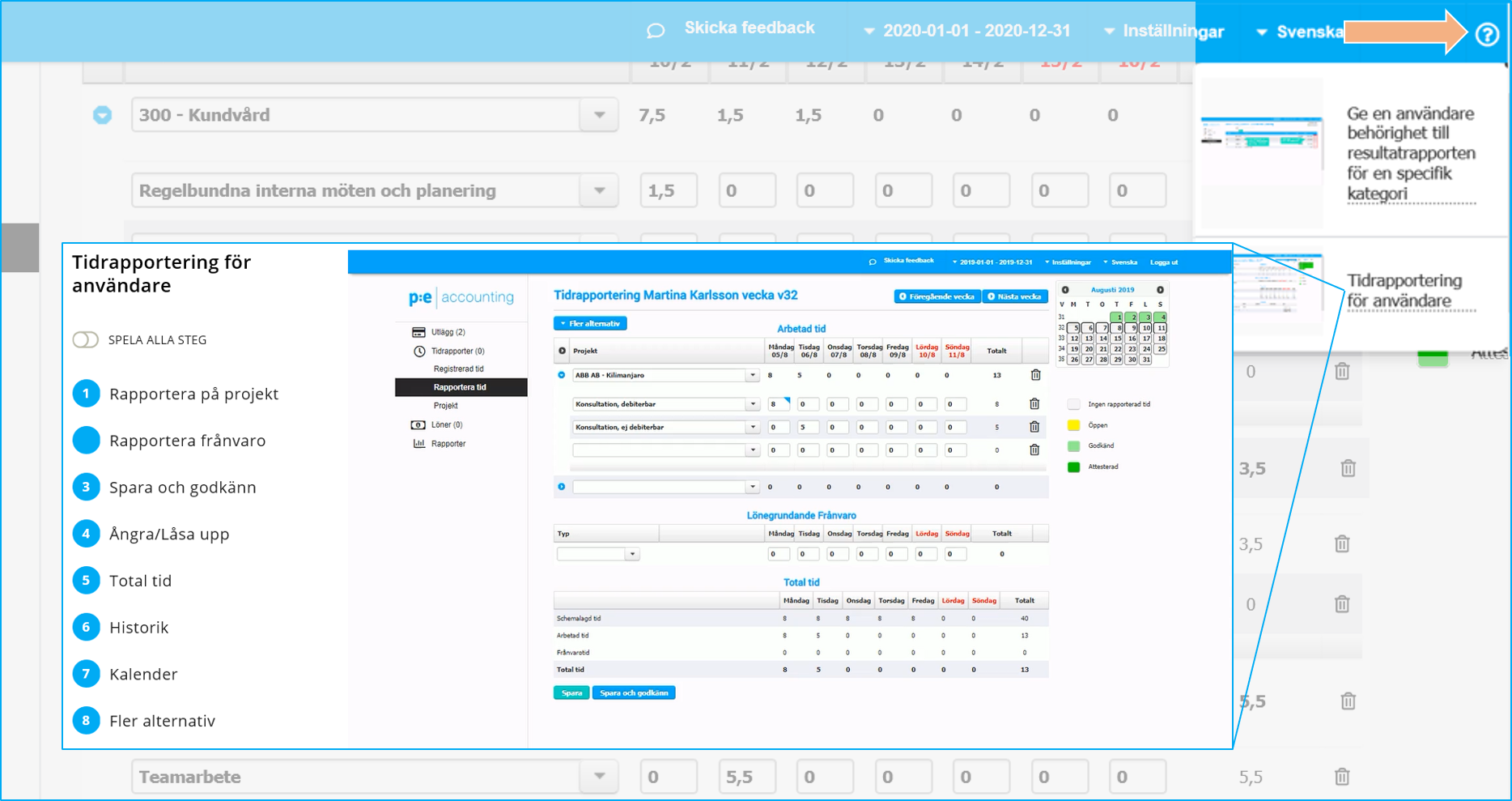 The integration between InfoCaption and PE Accounting. A screen recording shows how to do a specific task.


Jenny Alfvén and Amalia Lundin from PE Accounting, about their implementation of InfoCaption:
"We came into contact with InfoCaption when looking for a support system for internal documentation for an employee handbook. We got "sold" immediately after we had a demo and saw before us how InfoCaption could help us with the communication for our product. In other words, we changed focus from HR support to product support.

We have built an integration between InfoCaption and PE (their application), in which the core functionality is that instructional guides can be found in PE's user interface, and that the guides that are shown is based on which feature or page that is active. Behind the guides, there also is a Guide Portal that also can be reached through the interface, in which the users (or a technician) can search for all guides.

We have been getting a very nice and great support from InfoCaption and their support team during the implementation process. We are certain that InfoCaption will fulfill the support we wish for. We are so happy and satisfied over the fact that we have chosen this system."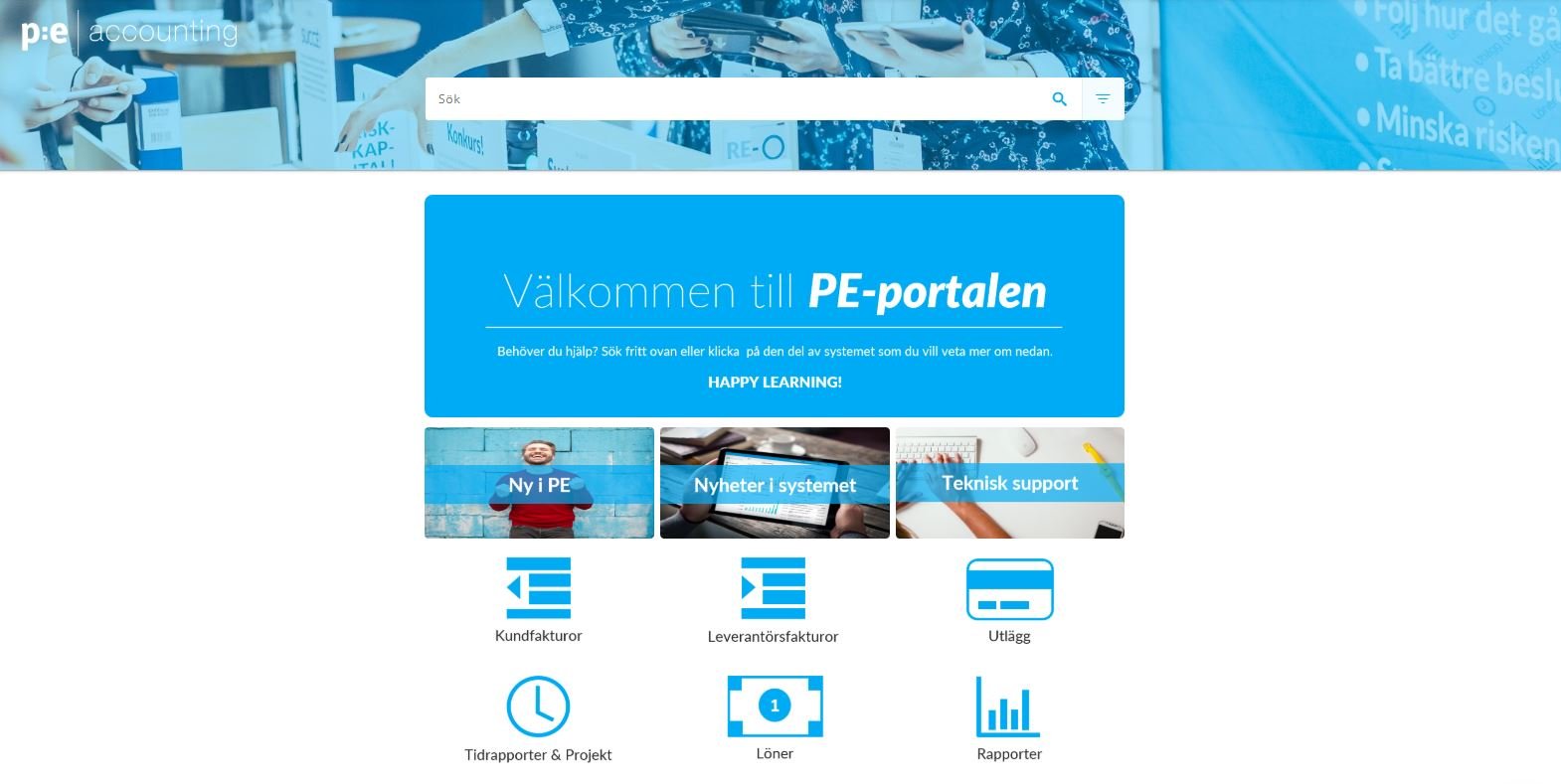 PE's Guide portal, where users can search for all PE's support guides.
This integration is a great example of how you can provide help directly to your users where and when they need answers to a problem or question. When the information displayed is relevant their exact problem it's easier for them to get help and move on as quickly as possible.


Do you also want to make the road to help shorter for your users?