When knowledge and information is documented and made available digitally it is made possible to access whenever and wherever you are. This is a win-win for both coworkers and the organisation.
Developing "how-to"-guides has many benefits. The guides can be supportive in the workday when helping someone learn how to finish a task in a system or in reality. One can also use the "how-to"-guides to reduce the magnitude of introductory educations by instead focusing on a general educational level, and let the digital guides be more detailed and be accessible when the need rises.
In addition of being complementary to introductory education, digital guides can also act as substitutes for location based education for employees who can not attend an educational event. To further shorten an onboarding process, you can also send out digital guides in advance of an educational event, preparing the participants for the session.
Ljungby Municipality had this in mind when they produced a handbook supporting the rollout of Office 365 in their organisation.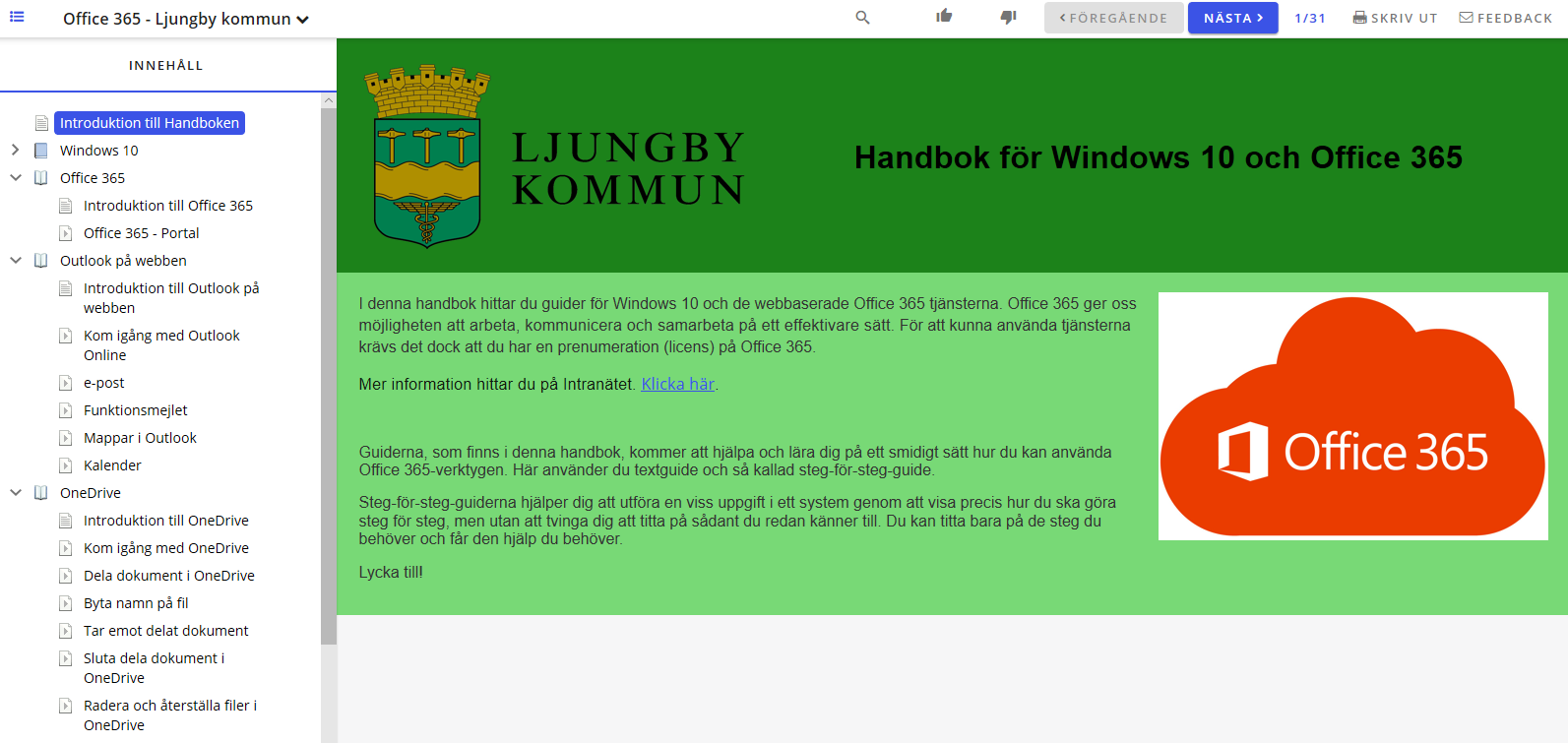 Click here to open the handbook

Albina Ajvazaj, creator of the handbook, describes the thoughts behind it:
"During the autumn of 2018 Ljungby Municipality started the rollout of Windows 10 and Office 365. ONe of my assignments in this project was to educate administrative staff at the different administrations. The handbook is a complement to teacher-led education and a support for those who do not receive teacher-led education. It also helps new employees learn about Office 365 in a faster way.

We have only had InfoCaption for one year and at Ljungby Municipality we recognize that the platform will be used in a greater extent further on, in several areas, such as guides to different operating systems, a portal for new employees, training tests and more. The handbook is just the beginning."
At InfoCaption we think this is a great example on how you can create the possibility for your employees to learn according to their unique conditions. It is also a good example of how a handbook can have many different purposes; as a supplement to an education, as support in everyday tasks and for faster onboarding of new employees. This guide really deserves the title Guide of the Month in November!
Congratualtions and well done to:
Albina Ajvazaj, Ljungby Municipality!
/Team InfoCaption
As a thank you to the persons/organization that has created the winning guide of the month, InfoCaption donates 1000 SEK to a nonprofit organization, which provides education or in any other way aid people into the labor market.