During our working day, we need to learn new things at different times. For example, when there is a change, and we need to work in a new way, or when one of the systems we work in has been updated or replaced. A common way to go is to create lengthy and sometimes resource-intensive education. But is there a more effective way to train employees in changing or introducing news?
In the event of changes in the work, the employee must understand the differences and, preferably, why it has taken place. This can be crucial for how smooth and painless the transition will be. A common way to learn this is to create so-called "formal" education, either e-learning courses or classroom education.
Significant changes can place demands on the amount of information and how it is disseminated, where formal learning can be a good alternative. However, our experience is not focused on formal learning but perhaps mainly on informal learning, on Performance Support.
Let the teacher-led education be comprehensive and tell about the background of the change and why it is happening. Please provide details on how it works for self-help materials such as video guides, text instructions, and more. This type of information is more receptive to employees just when the need arises when they are about to start working with the new system.
One of our customers, the City of Mölndal, understood Performance Support's benefits when changing process tools. They first created a three-hour, teacher-led training across Microsoft Teams. Pretty soon, they chose to replace the training with a digital handbook that users can go through before, during, and after they have started working with the new tool - entirely on their own.
Erik Wässing, the Process Controller at the City of Mölndal, tells how he thought about using digital learning:
"In the spring of 2021, the City of Mölndal will change process drawing tools. To facilitate the transition and increase knowledge about using the tool, I launched a training course in the autumn of 2020. It was a total of 3 hours long and was offered via Teams. After a few times, I started thinking about making a digital version of education without having to participate myself.

Although it is fun to hold training, it takes a lot of time. With the guide in place, the need for training led by me decreases, and I am sure that the time it took to make the guide can be counted home through fewer training opportunities.

There are also significant benefits if the users of a program can get the instructions on how to use it repeated for themselves when it best suits them. I have been to several educations and know that the information, no matter how well packaged, risks being forgotten after just a few weeks."
Some examples from the manual
An introduction to the new tool with comprehensive information
Click here or at the image to open the guide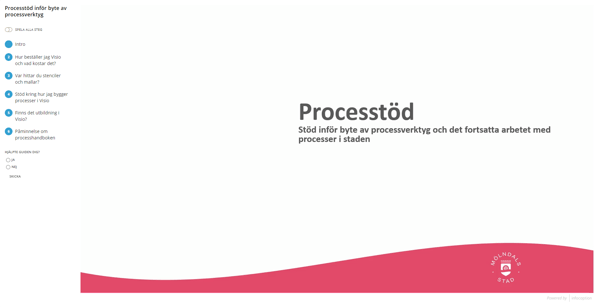 A how-to-guide explaining features in the new tool
Click here or at the image to open the guide
We at team InfoCaption think that this is a great example of how you can use Performance Support and the ability to refer to unique guides in various contexts, but at the same time make them into a manual describing the bigger picture.
The City of Mölndahas received the Guide of the Month award for its fantastic work.
Do you want to learn more about Performance support?