That systems undergo updates or are replaced entirely is a natural part of many people's work. Changes like these make high demands on both the organization and the employee. Instructions and training materials must be compiled, and new working methods must be established. By spending a lot of time planning and thinking ahead, you can make the transition easier for end users, while keeping motivation up.
Change requires teamwork
How do you implement a significant technological change in an organization where the work tasks and technical habits can vary significantly from person to person and from department to department? Especially when the old way of working is deeply rooted in the employees' routines, asking someone for help may not always be possible.
This problem was faced by Laholm municipality's IT department when the municipality had to change the telephone system. This meant that everyone from the service desk, who works during office hours, and the care workers, who work around the clock, needed to learn and get used to the new telephone system.
By spending time on planning and using simple and practical tools, the IT department at Laholm municipality cracked this nut. Together, they created guides that walk you through step-by-step how to use the new system, as well as created a list of answers to the most frequently asked questions. This means that they can quickly answer users' questions themselves, but also that users can help themselves when the need arises.
Feedback from a user at Laholm municipality: Easy-to-understand & educational guide with clear instructions that make it easy for the user.
Jenny Hallgren (IT technician), Laholm municipality continues:
When we were going to replace our switch system, we saw a need for early training. To make it easier for all our users, but also for us in IT (we are a total of 11 people where two of us share the telephony responsibility) we wanted to create good knowledge support. Since we have many employees in healthcare working 24/7, while in IT we only work during office hours, the information needed to be easy to understand and accessible to everyone, 24/7.

There was no doubt that InfoCaption was the right tool for the task. When the project team got access to the program, we immediately started recording step-by-step guides with voice recording. We chose to divide the guides into many short steps so that users can quickly see the relevant piece at the moment they need it. We also chose early, before the switch, to send out the first guides to users. In this way, we got important feedback early in the project.

To reach as many of our employees as possible, we posted information on the intranet, then we emailed all managers in the municipality and informed them that the guides were on the intranet and asked them to inform their employees. In addition to this, the guides can also be found directly on our InfoCaption portal.

Not long after the guides ended, follow-up questions came from users. Much depended on how things differed from our previous gear. Then we saw that we needed a FAQ, which everyone in IT helped compile. This FAQ helped us fill the information gap in the switch between the old and new systems.

All of this has saved a lot of time for both us technicians and end users by reducing the number of support cases and queue time on the phone, partly by preparing video guides that guide the user through the system, and partly by answering the most frequent questions in a FAQ.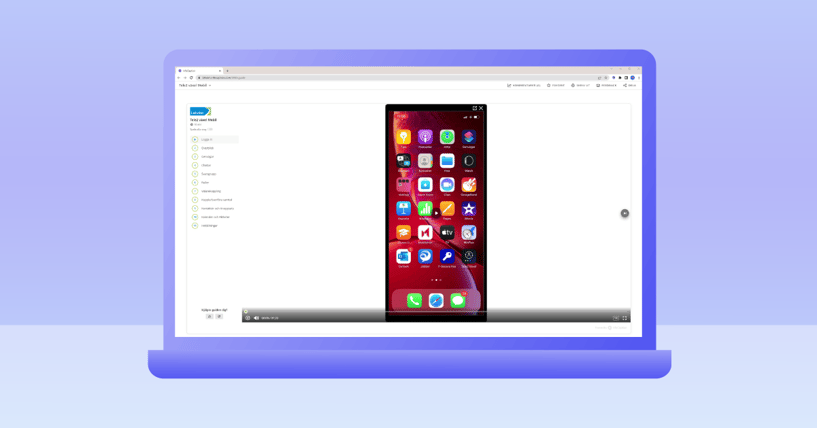 Click here to see the FAQ Laholm municipality's IT department created for the telephony system (in Swedish).
Laholm Municipality receives the Guide of the Month award
Every month we at InfoCaption appoint the Guide of the Month - a guide that we want to highlight a little extra because of its value in the organization. As a thank you to the person(s) who created the Guide of the Month, we donate SEK 1,000 every month to the organization Hand in Hand Sweden, which fights poverty by creating more jobs in vulnerable countries. Hand in Hand works with the "help to self-help" model, which aligns with InfoCaption's mission "to make it easier for employees to help each other".

We in the InfoCaption team think that Laholm municipality has succeeded in using guides as a central tool in communicating the necessary information in the event of a system change. We think that is worth celebrating.
Do you want to learn more about how you can create simple guides that make a big difference in your business?