The fact that humans are different is nothing new. We are different in the way we want to consume information and knowledge; some of us want to see and hear while others prefer to read the same information. This also applies to when we wish to absorb information, as a part of work, at a specific time, or at our own pace.

There is a lot to think about when it comes to education and information. Among other things, it is about creating accessibility and ensuring that everyone finds and beneficially absorbs the information. A challenge for many organizations is to stimulate employees to take more and more responsibility for their learning as a natural part of their working day.
An excellent first step that you can take is to think "less is more". Scaling down the amount of information in courses and focusing more on an overall level. This is because you only have a short window of concentration due to man's drastic forgetting curve. Another alternative may be to offer different arrangements for the same training conveyed through different media types.

To increase motivation and stimulate learning, organizations can advantageously focus more on interactivity, such as questions, videos, and scenarios, which the participant needs to take a stand on. It is good to know that many of us can't focus for too long on tasks such as reading and watching videos and need to be challenged to keep our interest levels high.
Annika Wetterberg (care and nursing) Intraservice The City of Gothenburg, the winner of this month's guide, realized the importance of providing educational materials in various formats to provide as many as possible with favorable learning conditions. She goes on to say:

"The interactive guide complements the training the user receives at their workplace and the manuals described in image, film, and text, that Intraservice delivers. I noticed that many had difficulty taking the time or absorbing information from traditional manuals, so I realized that we lacked this particular form of education.

Today, there is no training module for registration on mobile at the same time as many substitutes don't have access to a work phone of their own. The interactive guide is aimed at users who are having difficulty absorbing information by reading or watching movies and who learn better by being active. It is also suitable for those who have worked for a while but need to go through the instructions to refresh their memory. The interactive guide is more time and is similar to a mobile game where the user has to think, test, and click to complete the task. The interactive training has received very positive feedback, and it is a playful, easy and fun way to learn something new."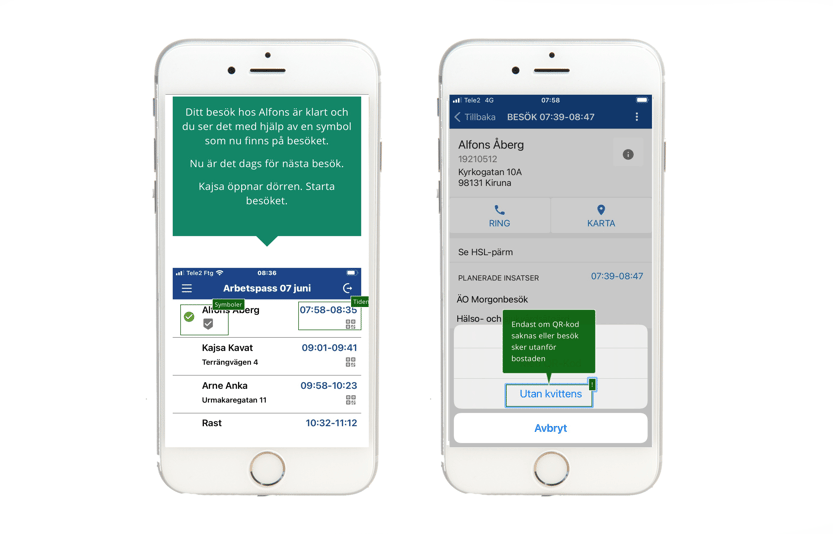 Feel free to try out the interactive guide. To see it correctly, scan the QR code to the right with your mobile device and follow the instructions.
For those of you who cannot read the QR code on your mobile device, you can read the guide in your browser, but it is not displayed in the mobile format. Click here to see the guide.
The response from inside the company has been very positive:
"I have gone through the interactive guide and can say that it is excellent, from start to finish, when you have to finish the work shift. It is structured very well and it is simple, so you can easily understand what to do."
"The guide was super easy to understand, it has easy-to-understand language and clear icons if you happen to make a mistake. The video was great on how to log in with a QR code."