Change is a natural part of working life. An increasingly common example is when new systems and accompanying new ways of working will be introduced into the business. Establishing these new ways of working often involves certain challenges, but by being aware of them and acting on them, you have a greater opportunity to get through and implement the change. Introducing the InfoCaption platform into the business is no exception, as for many businesses, it means both a learning journey in the tool and how to work effectively with instructions and pedagogy.
Make it easy to get started
With approx. 300 customers, we have many businesses that have made the journey to start work with InfoCaption. The success factors (and lessons learned) are many and, of course, differ depending on the type of customer and how you wish to use InfoCaption. However, there are a couple of success factors that we tend to highlight that are also relatively generic for change journeys in general.

An important factor is a clear communication regarding why the change will be implemented, how it will take place in practice, and what it will mean for the employees' everyday lives. So in Infocaption terms: what is the purpose of InfoCaption, how will the introduction take place, and how will employees participate in InfoCaption in their working day (as producers or end users)?

Another important factor is to involve employees in the change on various levels. It can be about active involvement in defined tasks, such as the communications department giving input on the graphic profile, IT providing technical support, or employees participating in producer training. However, we also want to highlight more general involvement where employees can give input on working with InfoCaption. By communicating that the work with InfoCaption is a joint journey that the business forms together, commitment is created because several people can influence the outcome of the change. Of course, not all employees can like and think about everything, but channels still need to be defined to collect feedback and thoughts.
That's how Bygghemma succeeded
Bygghemma had these factors with them when they were going to introduce InfoCaption in their organization. Bygghemma's main purpose with InfoCaption was to create a common gathering place for the organization's documentation and make it easier for its employees to find the right place. The collection site was aptly named Byggipedia. To succeed with the joint knowledge bank, it was realized that commitment from a broad part of the business will be needed to get started quickly and continuously further develop Byggipedia.
By including many employees, the starting distance was significantly shorter as the content production was distributed among several, and the broad commitment helped spread the information about Byggipedia in the business. In addition, Bygghemma was careful to describe the WHAT - that is, how InfoCaption works in practice. This was compiled simply and communicatively in a guide that we have chosen to elevate to the Guide of the Month for the month of February.
Tom Petersson (Order Management Coordinator), Bygghemma continues:
As we previously did not have a place to collect information for the entire organization, we wanted to make it as easy as possible to start with InfoCaption. We are still in the start-up phase, and it is therefore important that all employees know where to turn to make suggestions for guides and other improvements that make it easier to use the platform. The guide shows some simple and good features that are useful both for the information seeker and also for the producers.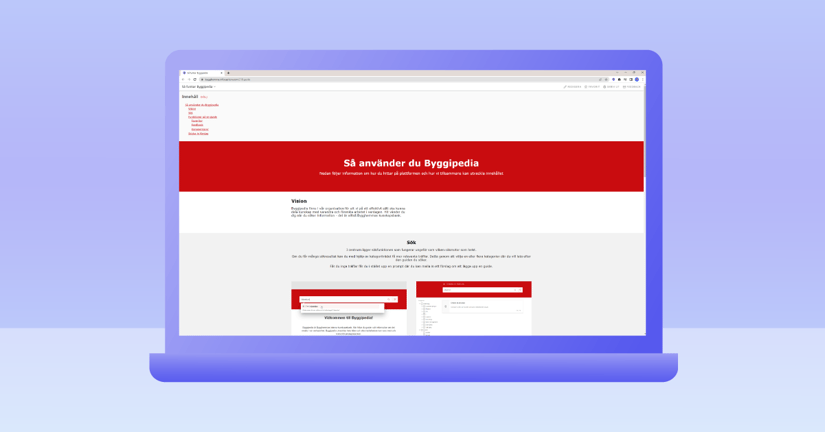 Click here for the guide describing Byggipedia and how employees can easily contribute guide content.
Bygghemma receives the Guide of the Month award
Every month we at InfoCaption appoint the Guide of the Month - a guide we want to highlight a little extra because of its value in the organization. As a thank you to the person(s) who created the Guide of the Month, we donate SEK 1,000 monthly to Hand in Hand Sweden, which fights poverty by creating more jobs in vulnerable countries. Hand in Hand works with the "help to self-help" model, which aligns with InfoCaption's mission "to make it easier for employees to help each other."

We in the InfoCaption team think that Bygghemma's initiative to use guides as a simple and inclusive tool for documentation is a step in the right direction. We think that is worth celebrating.
Do you want to learn more about how you can create simple guides that make a big difference in your business?