Many organizations have several mission-critical systems that are used internally and affect people outside their organization. It is, therefore, important that the methods are used correctly. However, it can be costly in terms of resources to ensure a basic level of knowledge for these systems.
Continuity in learning pays off in the long run.
Employees who are new to their role need support and help to find their way around various systems. Training sessions are often booked to introduce new users to the systems, which take time and energy to organize. It can be challenging to ensure that employees who attend this training leave the classroom with equivalent knowledge. This means that employees ultimately need to return to documentation or, in some cases, contact the supervisor again to ask questions. Looking up the information that was once learned in the classroom creates frustration and stress in everyday work, not only for the person asking the question but also for the person sitting on the answers.
For us at InfoCaption, it goes without saying that every employee can easily find handbooks and other training materials that are relevant to them right then and there. It shouldn't be a problem if you forget an essential detail in the middle of your workflow, as long as the material is well documented and quickly found. In addition, the guides can be viewed repeatedly, which lifts the burden from the trainer's shoulders as they only need to register the content once in practice.
Mark's municipality has caught our attention by creating an introductory training course with InfoCaption guides. This month, we at InfoCaption have chosen to highlight a guide intended to replace physical training - a clear indication from the Municipality of Marks that they intend to use more modern work tools.
Karolina Berndtsson (Payroll administrator at the Technology and Service Administration) explains further:
The guide is aimed at our employees and introduces how they use our personnel system.
It shows, among other things, how they report the absence and see their salary specification. The guide was created to make the municipality managers and staff accountants easier. Before the guide existed, the manager or personnel accountant had a walk-through of the personnel system with each new employee, no walk-through was the same, and it took much time. The guide is now used so that new employees receive the same introduction and save time for our managers and staff accountants. Plus, our employees can watch the guide over and over again!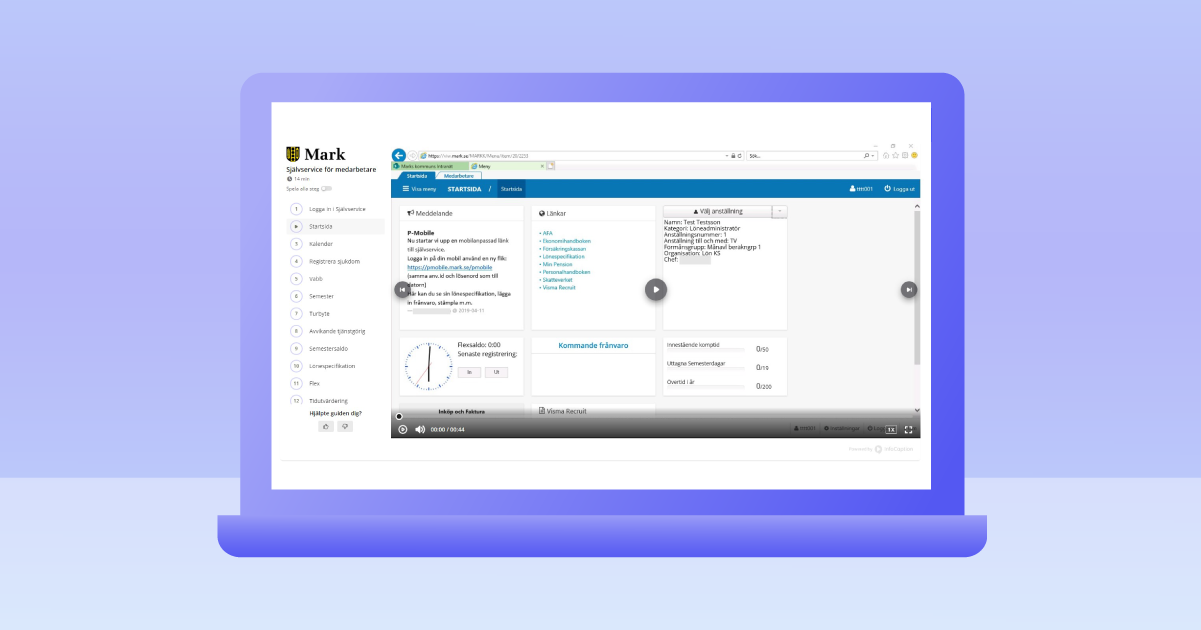 Click here to see the guide "Självservice för medarbetare" (in Swedish)
Marks municipality receives the Guide of the Month award
Every month we at InfoCaption appoint the Guide of the Month - a guide that we want to highlight a little extra because of its value in the organization. As a thank you to the person(s) who created the Guide of the Month, we donate SEK 1,000 every month to the organization Hand in Hand Sweden, which fights poverty by creating more jobs in vulnerable countries. Hand in Hand works with the "help to self-help" model, which aligns with InfoCaption's mission "to make it easier for employees to help each other."
We at team InfoCaption think that the work done by Mark municipality with this guide is inspiring and points to the fact that we are facing a paradigm shift - we are moving more and more from physical training sessions to becoming more independent of the person in whom we find knowledge. We think that is worth celebrating!
Do you want to learn more about how you can easily create practical training courses?