Many organizations have several business-critical systems that are used internally and affect people outside their organization. It is therefore essential that the systems are used correctly. However, it can be expensive in terms of resources to ensure a basic level of knowledge for these systems.
Empower employees with a simple self-help
All employees will, at some point, need help to get on with a task. Often, the knowledge required to solve the problem is tied to a person or has been acquired during physical education. This means that the employee must spend time finding the information, whether it is found with a colleague or in hard-to-find documentation. Having to use work time only to search for information can be frustrating and gives rise to stress in everyday work.
For us at InfoCaption, it is important that self-help should be accessible, effective, and uncomplicated. Providing the opportunity for help immediately when the need arises reduces the knowledge-related stress among employees. This month, we at InfoCaption have chosen to highlight the municipality of Boden, which has launched Inline throughout the organization during the month of September. By making available effective self-help that is only a click away, Boden Municipality has come a long way towards helping its employees become more independent.
Before the launch, contexts have been developed for most business-critical systems, in addition to contexts from IC365. They will also work continuously with the communication around Inline so that it reaches everyone who needs self-help, partly by sending out info emails and partly by holding a webinar where you have the opportunity to ask questions. In addition to the work with Inline, Boden has further developed their guide portal to ensure that all employees find the help they need, regardless of where they turn.
Andrea Gunnarsson (a business developer at the IT unit in the municipal management administration), explains further:
We want it to be easier to get the help you need immediately when the need arises. The time you spend looking for the right guide can create frustration, and you might rather contact a colleague. With Inline, we hope to relieve the workload on people supporting the systems and reduce the frustration that can arise among users. It's empowering to be able to do things yourself!
We want to fulfil the basic need to facilitate and make user support available. Sometimes you don't even know you need help, and when you realize the need, you may not know how to find the help you need. The hope is that Inline will simplify that process and make it easier for individuals to find help when they need it. In the longer term, we hope it contributes to increasing digital maturity among the municipality's users.
We realized early on that if Inline is to be effective, we needed to take stock of existing material to ensure that the knowledge is documented. This has been the task that required the most resources. For some, it has been a bigger job; for others, it has gone quickly. Many people contributed to this work, and I am so impressed with each person's work. It's fun to watch it grow!
Alongside the Inline work, we generally work with our education portal. At the turn of the year, the portal received a new structure and appearance. The vision is for the Course Portal to be the obvious place every employee turns to for knowledge sharing. We have invested in training for producers and work a lot with commitment and support.
At the end of September, Inline will be launched in Boden Municipality. The hope is that it is the starting point rather than the finish line. There are more systems that can be easier to use with Inline, and there are also several businesses that are interested in self-help.
This work is teamwork, there are and will be many people involved, and it will be great fun to see how it will develop in the municipality.
Systems that will have contexts at launch on September 19th are the following:
Financial system
Management system
The Microsoft 365 environment
The intranet
The user interface for our internal case management system
The user interface for our website boden.se
Comment from Tomas Duvsten (administrative manager Boden municipality):
As an administrative manager in the municipality of Boden, I think that the course portal with the Inline application is a very good platform for being able to deliver good course material to customers in an educational and simple way.

The educational material becomes very easily accessible, and the users get to take part in the material in exactly the right place and at the right time.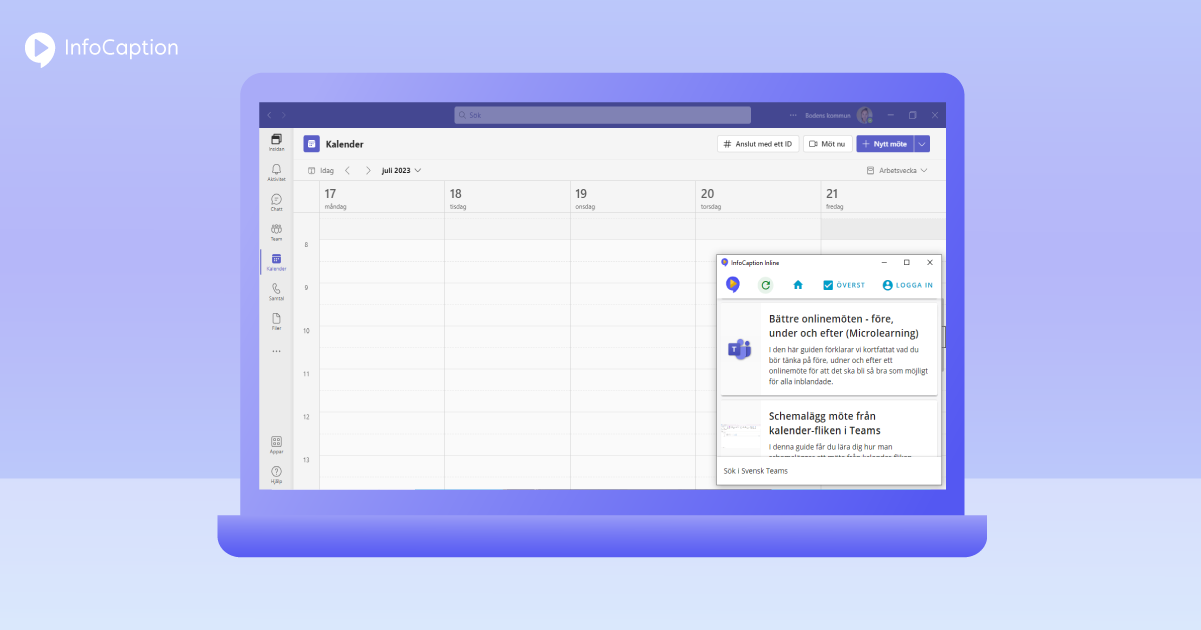 An example of a view where Boden's self-help is available.
The municipality of Boden receives the Guide of the Month award
Every month we at InfoCaption appoint the Guide of the Month - a guide that we want to highlight a little extra because of the value it creates in the organization. As a thank to the person(s) who created the Guide of the Month, we donate SEK 1,000 every month to the organization Hand in Hand Sweden, which fights poverty by creating more jobs in vulnerable countries. Hand in Hand works with the "help to self-help" model, which is in line with InfoCaption's own mission "to make it easier for employees to help each other".
We in the InfoCaption team think this is a very good initiative from the municipality of Kil from several aspects. They created education for residents to take part in and at the same time did this with simple means, without hiring consultants. Residents of Kil's municipality gain knowledge related to waste management and environmental thinking thanks to this education, and it is worth celebrating.
Do you want to learn more about how you can share knowledge in a better way?