You have probably heard many times about employees who express dissatisfaction with a system or a routine when it may just be that they do not see their part in the whole. If you can help employees understand their place, on the whole, you can counteract a defeatist attitude like this. So how do you do it?
Create an understanding of the overall picture
Most of us can relate to what it's like to end up in a complex work situation where many parties are involved, and both simple and advanced tasks need to be performed. Above all, the tasks need to be performed at the right time in relation to each other. Submissions, reviews, and confirmations are all steps that can be essential components of such a process.
For an individual to be in an excellent position to understand the whole of a multifaceted work task, one must start with the simple: what do I need to do? By creating easily accessible process maps with clear role divisions for who should do what, you simplify the workday for employees whose work is based on processes. On top of that, you reduce the knowledge-related stress connected to knowing your place on the whole.
Åmål municipality helps its employees find their place in the whole with the help of processes that map the tasks within each administration.
Pia Carlsson (Business Developer), Åmål municipality, continues:
The municipality of Åmål works to map and document processes in many operational areas. The purpose is to ensure quality, improve the work based on current legal requirements, and develop the operations with the customer in focus.
The activities included in meeting the individual's needs are made clear by seeing the entire process from the individual's perspective. Then we employees in the business and across business boundaries can also discuss how we can simplify, improve or renew different parts of the process.
With the support of InfoCaption's process module, we now have in Åmål municipality a simple and user-friendly tool that will eventually be able to be used by more employees in the operations.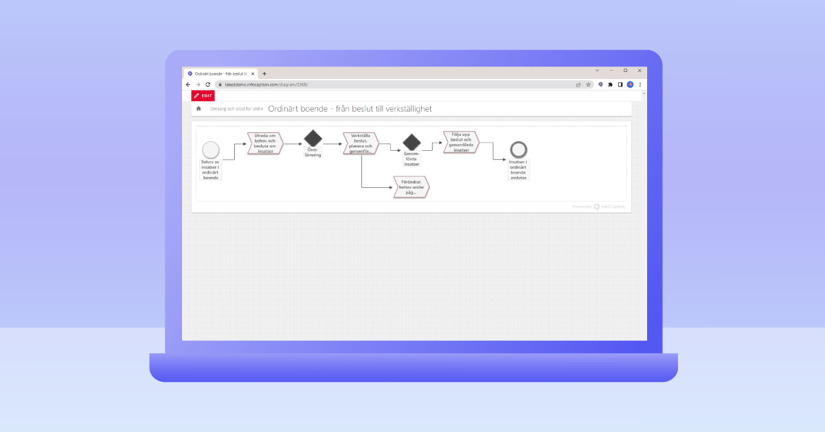 Click here to see one of Åmål municipality's processes (in Swedish)
Åmål municipality receives the Guide of the Month award
Every month we at InfoCaption appoint the Guide of the Month - a guide that we want to highlight a little extra because of its value in the organization. As a thank you to the person(s) who created the Guide of the Month, we donate SEK 1,000 every month to the organization Hand in Hand Sweden, which fights poverty by creating more jobs in vulnerable countries. Hand in Hand works with the "help to self-help" model, which aligns with InfoCaption's mission "to make it easier for employees to help each other."
We in the InfoCaption team think that this is an excellent way to work: By mapping work processes and creating guides to describe tasks, the everyday working life of many employees in the municipality has been simplified. We think that is worth celebrating.
Do you want to learn more about how you can get started with process mapping in your business?