Putting together a training course that teaches a seemingly complex subject should not have to cost the organization large amounts of time and resources. Regardless of who possesses the knowledge, it should be easy to put together a flow that is easy to understand, to simplify knowledge sharing between all parties.
Simple instructions for everyone
It comes naturally to share knowledge when the environment clearly needs it. Therefore, it is essential that anyone should be able to create manuals, videos, and text instructions and then assemble them into training courses. If you simplify this using uncomplicated tools, you have come a long way.
For us at InfoCaption, it is important that everyone should have the opportunity to share valuable knowledge within the organization, and therefore we have created tools that make this possible in an uncomplicated way. This month, we have chosen to highlight the municipality of Kil, which has developed a training program that, after implementation, gives citizens the opportunity to use the municipality's recycling center (ÅVC) during unmanned opening hours. They have chosen to call this ÅVC+. ÅVC+ has received attention in the local press and also in SVT.
Kils Recycling informs the visitor about how to use ÅVC directly on the spot with screens that play video, and also via QR codes that are visible around the facility. You can find information about ÅVC+ on the website and the app that the QR code leads to.
Jonathan Brunbäck (operations manager at Kils Recycling), Kils municipality further explains:
Background
Kils Recycling has opened a remodeled recycling center (ÅVC) that allows visits during unmanned opening hours (ÅVC+).
The purpose of the service is to increase the level of service to the municipality's residents and at the same time increase the environmental benefit through better sorting. Anyone who visits the ÅVC outside of staffed opening hours must first complete a training course to learn how to sort correctly in a safe manner. In addition, they need to know and follow safety rules.
The idea behind the training
We needed an easy-to-digest way to educate people about waste sorting.
Waste sorting is a complex subject and we thought that short films would be a way in which most people could easily absorb information. Instead of having a physical education, municipal residents can sit at home and study. They then also take a knowledge test via an e-service. All that remains is a 20-minute security briefing on site. Otherwise, everything is done digitally when it suits them best.
InfoCaption offered us a cost-effective way to reach out to the municipality's residents. Instead of hiring expensive consultants, we put together a homemade solution, with a little support from Kil's municipality's marketing department. We filmed almost everything ourselves with our mobile phones. Education is open and available to everyone. Therefore we can refer anyone who wants to know more about sorting at our ÅVC to take the education - regardless of whether they use the ÅVC+ service or not.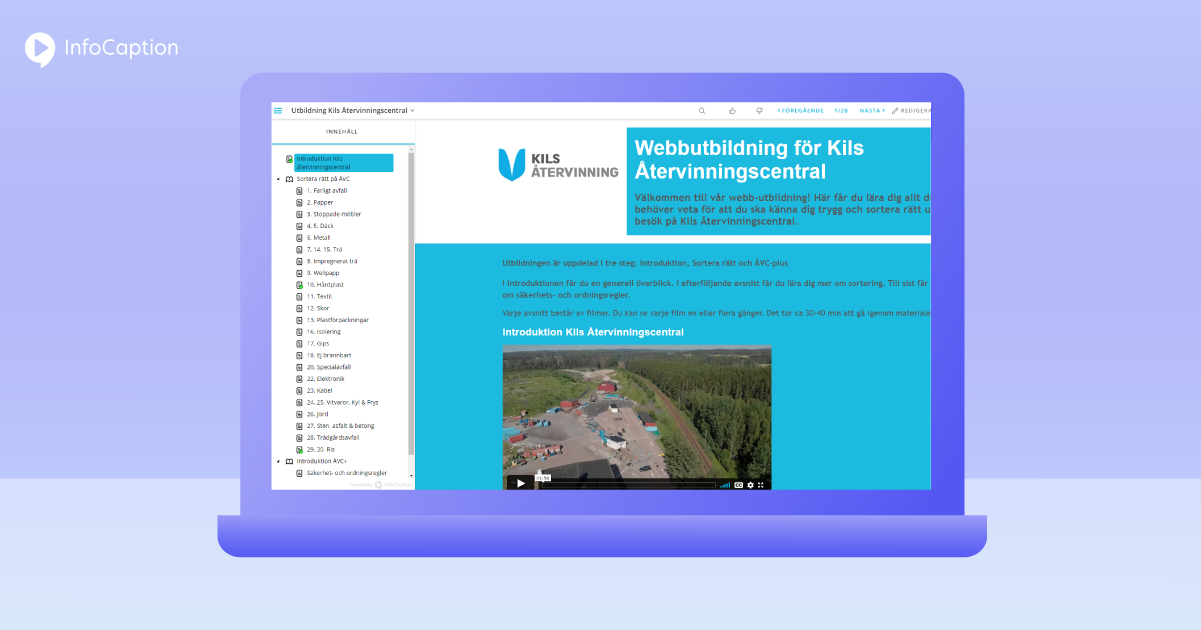 Click here to see the education (the site is in Swedish)
Kil's municipality receives the Guide of the Month award
Every month we at InfoCaption appoint the Guide of the Month - a guide that we want to highlight a little extra because of the value it creates in the organization. As a thank to the person(s) who created the Guide of the Month, we donate SEK 1,000 every month to the organization Hand in Hand Sweden, which fights poverty by creating more jobs in vulnerable countries. Hand in Hand works with the "help to self-help" model, which is in line with InfoCaption's own mission "to make it easier for employees to help each other".
We in the InfoCaption team think that this is a very good initiative from the municipality of Kil from several aspects. They created education for residents to take part in and at the same time did this with simple means, without hiring consultants. Residents of Kil's municipality gain knowledge related to waste management and environmental thinking thanks to this education and it is worth celebrating.
Do you want to learn more about how you can easily create effective training courses?