"When the left hand doesn't know what the right hand is doing" is a common saying with negative meaning and describes a phenomenon that can cause negative effects in a business. It is important that everyone knows what applies and follows the same instructions and work routines to insure correct results even if several roles are affected by the routine.
The InfoCaption guide type Workflow is a great way to describe how something is done and how the routine can wander between different positions and roles. Using this feature, every single individual can then understand their role and contribution in a bigger process. However, you can also achieve this result using other methods as well. To highlight this point, we want to set focus on the municipality of Vetlanda. They achieved this very result by using the guide type Outline - or "manual" as many call it - and created their "Payroll and HR Portal", a manual with instructions for both employees, administrators and managers.
The manual is a collection of Step-by-step guides and Text guides that describes how to report salary, vacation and absence etc. The purpose of the manual is to make the information easily accessible and comprehensible for everyone – something they have achieved by putting information for all roles in the same place, and explaining with both videos, texts, and images.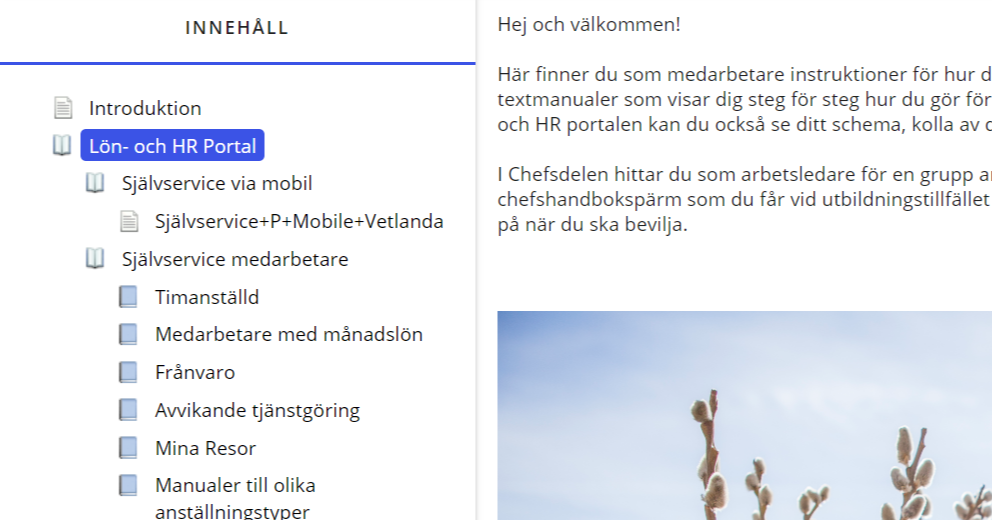 Click here to see the manual (Swedish)
Åsa Holmberg's own story:
"We identified a need to compile our manuals in a more easily accessible way to the user. We believe that people comprehend information in different ways, which we can provide through InfoCaption by creating different types of guides. In this way we can reach as many coworkers in our business as possible, informing how to use and register in our Payroll and HR Portal. We came up with the idea of a manual where all material could be gathered in the same place, and we are now working on developing and distributing our manual so that everyone can find it.

Our manual is a collection of all the manuals needed to use and register in our Payroll and HR Portal. Our aim is that employees, managers and administrators should find the answer to as many questions as possible in the manual and that it is easily accessible to everyone.

This would not have been possible without my dedicated coworkers responsible for this project: Anna-Maria Lindberg and Anna Carlemar."
This manual is a great example of how one can gather all information about a particular topic in an easily accessible way, in order to save time for the employees. Another important aspect, that is well planned and executed by the creators, is to reach as many coworkers as possible. We are all different in the way we prefer to learn, as well as how we comprehend information in the best way. Some of us prefer to read, others prefer to see or to hear. By creating a material that teaches in various ways, the chance increases to reach out with the information to a greater audience within the business.
As a thank you to the persons/organization that has created the winning guide of the month, InfoCaption donates 1000 SEK to a nonprofit organization, which provides education or in any other way aid people into the labor market.
Congratulations and well done to:
Åsa Holmberg
Anna-Maria Lindberg
Anna Carlemar
/Team InfoCaption