During the pandemic, many of us got used to working from home and thus skilled at using programs like Teams. But the kind of digital tools that facilitate collaboration between employees who are not in the same place have existed long before the pandemic shook our society.
Although there are tools for working remotely, it is far from all of us who are completely familiar with how different programs like Teams and Skype work or what useful functions, shortcuts and opportunities exist that makes working as efficient as possible.

This has resulted in that many organisations quickly have had to to create manuals, courses and other content to give employees the support they need to work at home independently.
One of our customers, Upplands-Bro municipality - which is the winner of Guide of the Month April - started work on this as early as 2019. They created a handbook on Teams called "Smart Meetings".
Mattias Rindefors, IT departement Upplands-Bro municipality:
"Good guides are a key to digitization and good user experience at Upplands-Bro Municipality. In 2019, we created the concept of "Smart Meetings" to help users conduct Video Meetings with the help of Microsoft Teams and technical tools. Infocaption's tools helped us to easily put together the material for the interactive guides "Smart Meetings". The guides are invaluable in our day-to-day work and facilitate at every stage."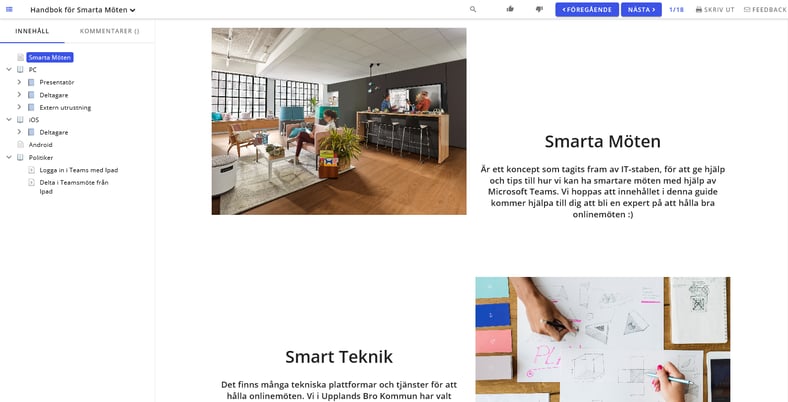 Upplands-bro Municipality's "Handbook for smart meetings". Click here to view the handbook (Swedish).


We at InfoCaption think this is a brilliant example of a handbook that has clear chapter and video instructions, that really works great in the everyday life - especially in these times when more and more employees need help getting started with digital collaboration.
Thanks to their fantastic work, Upplands-Bro municipality has received the Guide of the Month award.
Do you want to learn more about how you can share knowledge in a flexible way?