Welcome to our User days 2022!
Participate in a couple of inspiring days where you get to discuss and exchange experiences with other InfoCaption users, take part in news on the platform and be inspired by lectures in digital learning.
The conference runs for two half-days in Stockholm, but there is an opportunity to participate digitally in some parts of the forum.
November
10-11 2022
Norra Latin, Stockholm
Secure your spot at Early Bird prices!
The Early Bird discount runs until August 31:st. If you are more than three people who want to participate, you will receive a quantity discount.
Pre-conference November 10 from 9:00-12:00: Practical workshops with support from the InfoCaption team.
Digital participation: If you do not have the opportunity to participate in Stockholm, we offer you to participate digitally in selected lectures at a lower price.
User Conference with dinner included. Price:
3550 SEK
2950 SEK
User Conference with dinner excluded. Price:
2950 SEK
2350 SEK
Pre-Conference: 1250 SEK
Digital Participation: 1550 SEK
Lectures
(A selection of the program)
The 5 Moments of Need
Dr. Conrad Gottfredson & Bob Mosher
By starting from The 5 Moments of Need, you ensure that employees can confidently perform their tasks efficiently and independently. Come away from the classic form of education and see resources used where they are needed, and productivity increase.
Knowledge a click away!
Boden municipality
A key factor in spreading knowledge in an organization is to ensure that the knowledge is collected and easily accessible. Boden Municipality realized this and has made a remarkable journey with creating and accumulating knowledge and making it available with context-sensitive help directly in the workflow of all employees.
Get maximum value out of InfoCaption
Elin Lundqvist, InfoCaption
How can you get maximum value from InfoCaption? In this session, InfoCaption's customer manager goes through eight defined health areas that InfoCaption has defined through many years of experience as important areas to get maximum value from the platform.
Break-outs
(A selection of the program)
Easy to get right with InfoCaption Process
Immerse yourself in the topic of process. In this session, we will demonstrate InfoCaption's process tools; we will take part in customer examples and raise questions about the creation, sharing and management of processes.
Get started with courses in InfoCaption
In this workshop, we go through how to work with courses in InfoCaption: how do you package a course from existing guides, and how can you build a course portal in the platform?
Be a part of InfoCaption's product development
Look into the future with us! Join us and explore how InfoCaption's platform can be developed in the future. Thoughts, new ideas and proposed solutions - here we are scouting and investigating to the fullest!

(Limited number of seats)
Stay tuned!
Soon we will be releasing the entire program.
Here you will find all the information about the conference's program, lectures and practical information. If you have any other questions about the event, please feel free to contact me.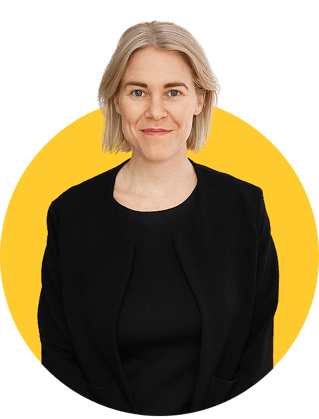 Elin Lundqvist
Head of Customer Success